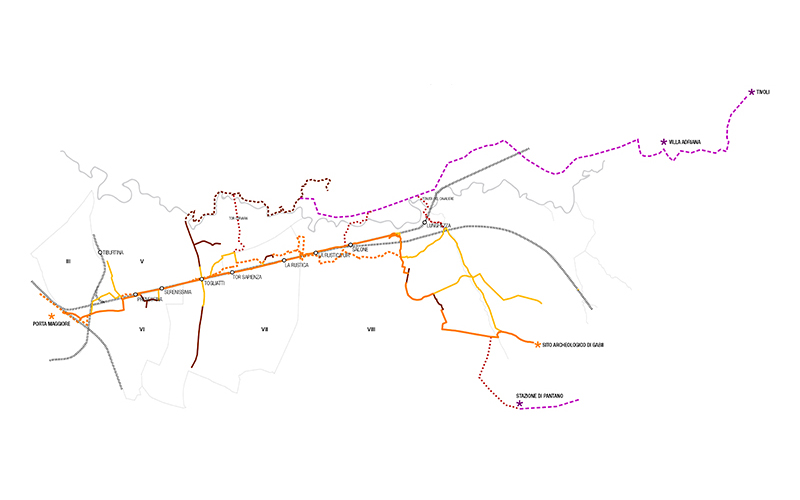 LINEAR PARK OF THE ANCIENT VIA COLLATINA
archeological bike and pedestrian route from Porta Maggiore to Gabii | Rome | 2012
#infrastructure #bikemobility #pedestrianmobility #intermodality #urbanregeneration #landscape #territory
The Porta Maggiore-Gabii equipped cycle and pedestrian path defines an important route towards east in the scenario of the Piano Quadro della Ciclabilità of Rome, along the Rome-Naples TAV track.
The route crosses four municipalities, for more than twenty kilometres, across urban and extra-urban territories and it configures as an infrastructure with more vocations, from daily use along a section heavily congested by traffic, to occasional for playful, sporting and cycling tourism use. In both cases the interconnection (with other routes, with the neighbourhoods, with the main elements) and intermodality between alternative transport systems are an integral part of the study, such as the research of a deep relationship with the history of the crossed places, both at archaeological and landscape level. In the study area there are traceable, in addition to the remains of the ancient city of Gabii, important historical remains still to be investigated, portions of agro romano and environmental and hydrogeological relevant elements.
+
The project therefore presents itself as a sort of great work of linear, urban and landscape redevelopment, consisting of a fundamental structuring path enriched by built elements, arrangement of open space services, redevelopment of areas trough landscape interventions, possibly with public functions, and connections with the urban and territorial context. It will therefore serve to improve the overall quality of the environment for the inhabitants of the crossed context but also to guarantee for the specific users of the path a greater attractiveness of the landscape crossed and a greater security.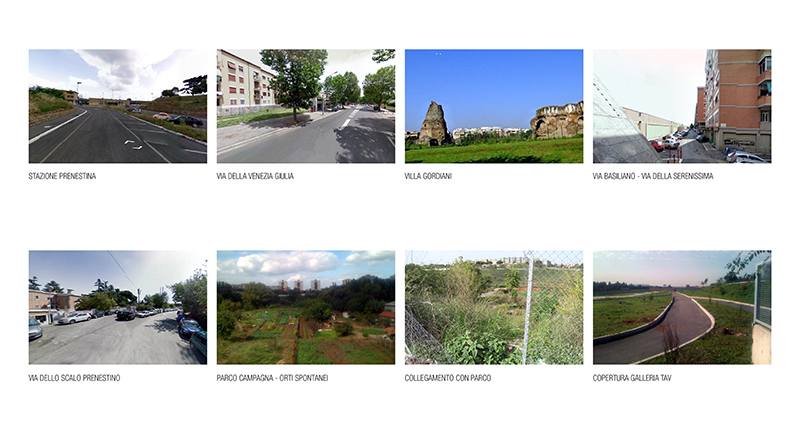 CREDITS
type: commission
status: feasibility study
client: Roma Capitale
with: Elisabetta D'Amato, Michele Testa, Roberto Pallottini, Fabio Martellino