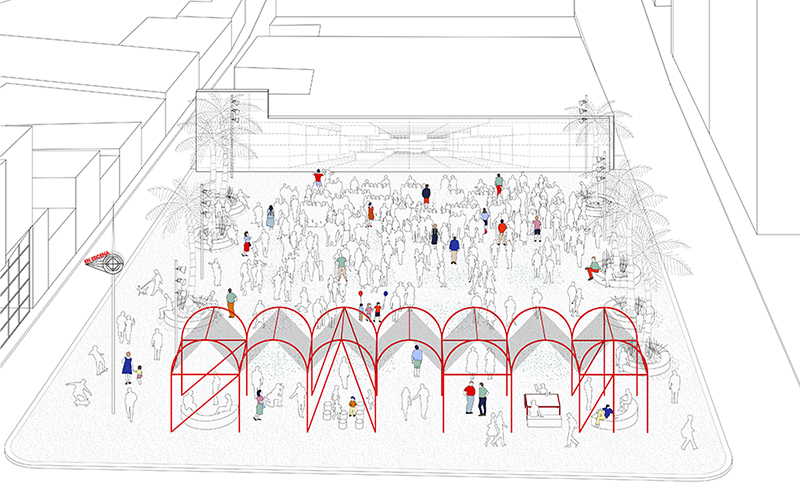 EN ESCENA
urban stage | Arrecife, Lanzarote, Spain | 2018
#urban #square #publicspace #flexibility #shade #sign #frame #streetfurniture #market #events
EN ESCENA is an urban stage. A place where, on one hand, the representation of everyday life is put into act, with its slow rhythms, made of encounters, exchange and sharing for the construction of a community; on the other, a place, a stage, that can accommodate the unexpected, the collective rites, and the unpredictable urban.
+
The first act consists in defining the space: naming it and making it recognizable. Going EN ESCENA, as a proper noun, motion to place, but also going EN ESCENA, meant as being main actors of the transformation of space. Along Calle Betancort, a tall post with a lighted and mobile sign, which refers to Manrique's flags and wind sculptures, becomes a perceptive reference point.
Beside it there is the foyer, a light structure of red steel over which a canvas is fixed for a comfortable shade. Under the frame a few fixed elements are arranged, the minimum infrastructure to meet the needs of everyday life (sit, play, rest, stay together…). The furniture, heavy and massive, balances the lightness of the frame and canvas. The foyer represents the threshold to overpass to enter a world where everything is possible, but also the place to entertain yourself and meet before watching the show of life.
Along the other two sides, as galleries of a theater, there are places to sit and observe what happens on the main scene. A system of circular benches developed around ground vases designed to accommodate palms.
Finally, the parterre, the large surface left as free as possible to stage anything that urban life could need. The continuous and undifferentiated surface, in light concrete mixed with dark basaltic stone, is measurable through the insertion in the pavement of circular geometries, useful for the placement of temporary fittings (installations, boxes for markets, etc.).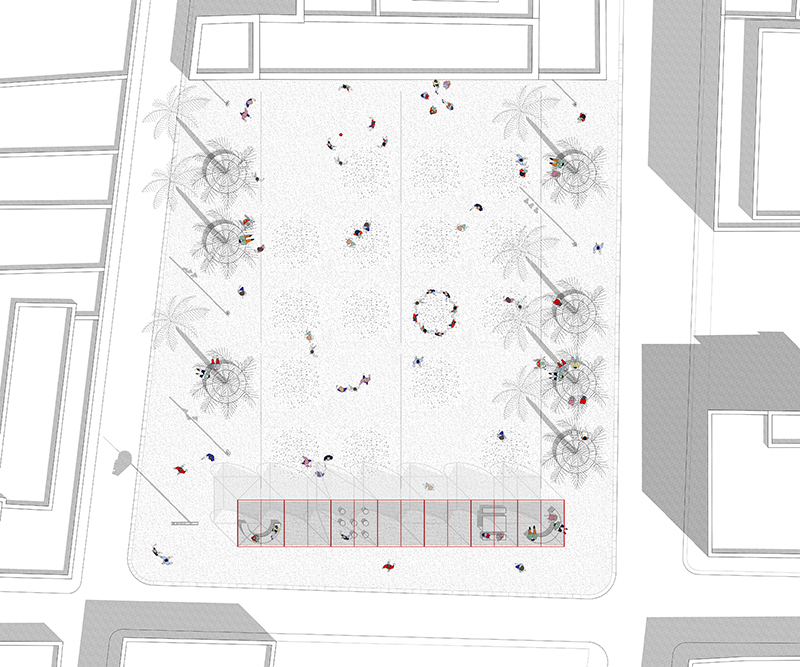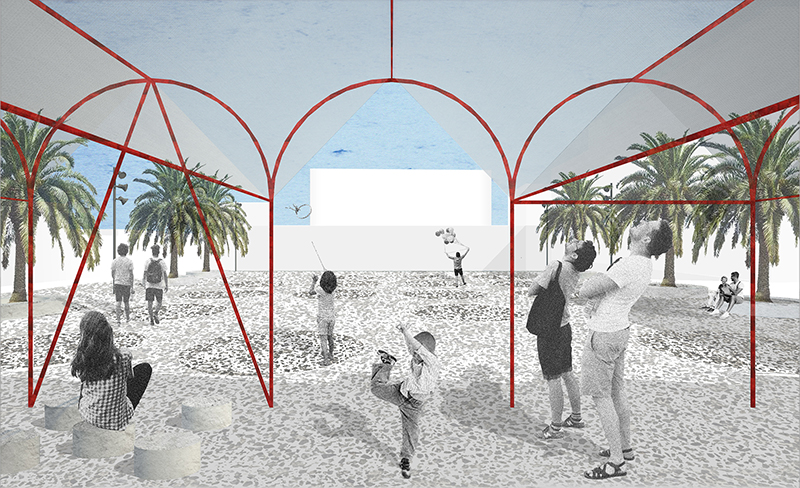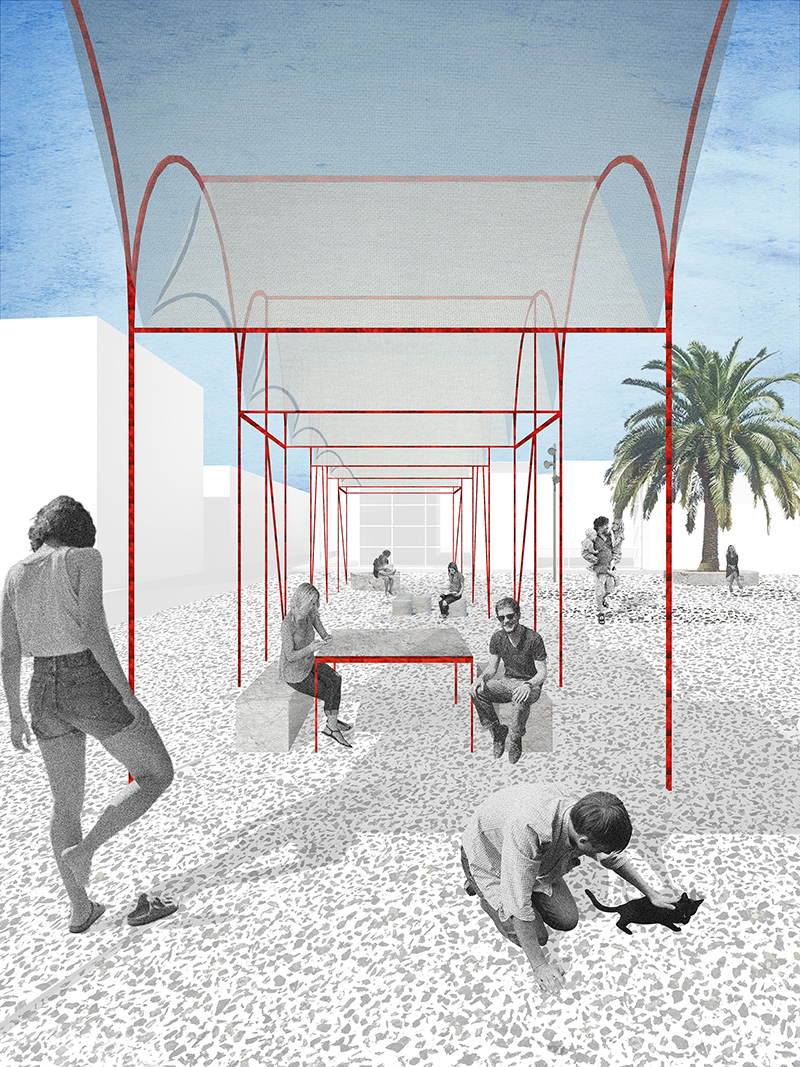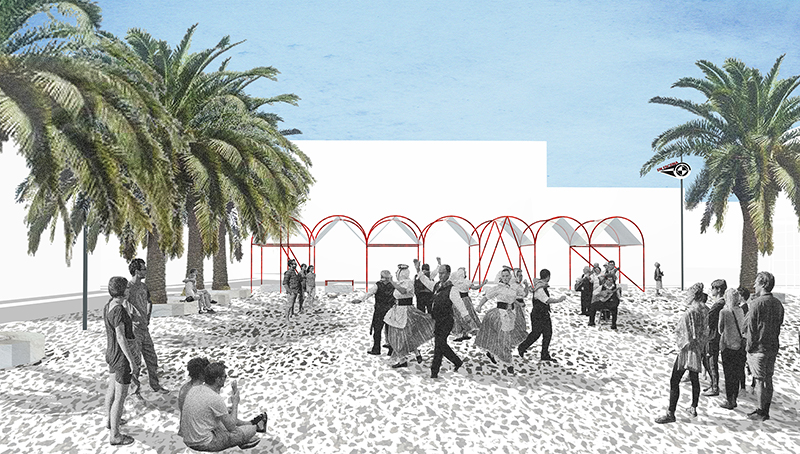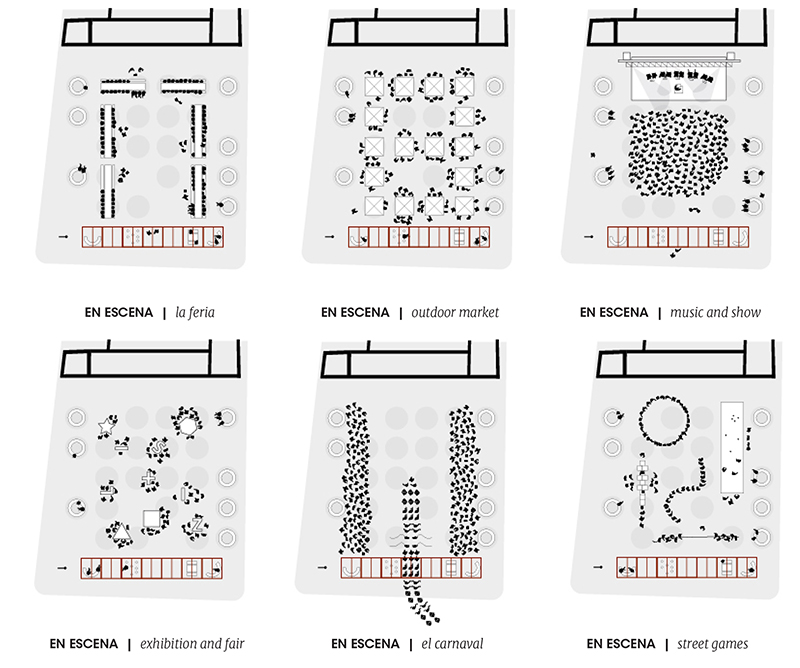 CREDITS
type: ideas competition
client: reTH!NKING_architecture competitions, municipalità locale